How to STDEV on different ranges using Excel formulas?
Consider an Excel file in which we have different group of numbers and we want to calculate STDEV for each rang using a formula. The process is as follow,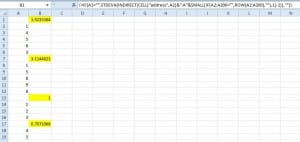 =IF(A1="",STDEVA(INDIRECT(CELL("address",A2)&":A"&SMALL(IF(A2:A200="",ROW(A2:A200),""),1)-1)),"")
Note: This is an array formula and should be inserted with Ctrl+Shift+Enter
Are you struggling in your Excel workbooks? Please contact through Excel support services page.
Our experts will be glad to help you, If this article didn't answer your questions.
We believe this content can enhance our services. Yet, it's awaiting comprehensive review. Your suggestions for improvement are invaluable. Kindly report any issue or suggestion using the "Report an issue" button below. We value your input.