Best HR Dashboards in Excel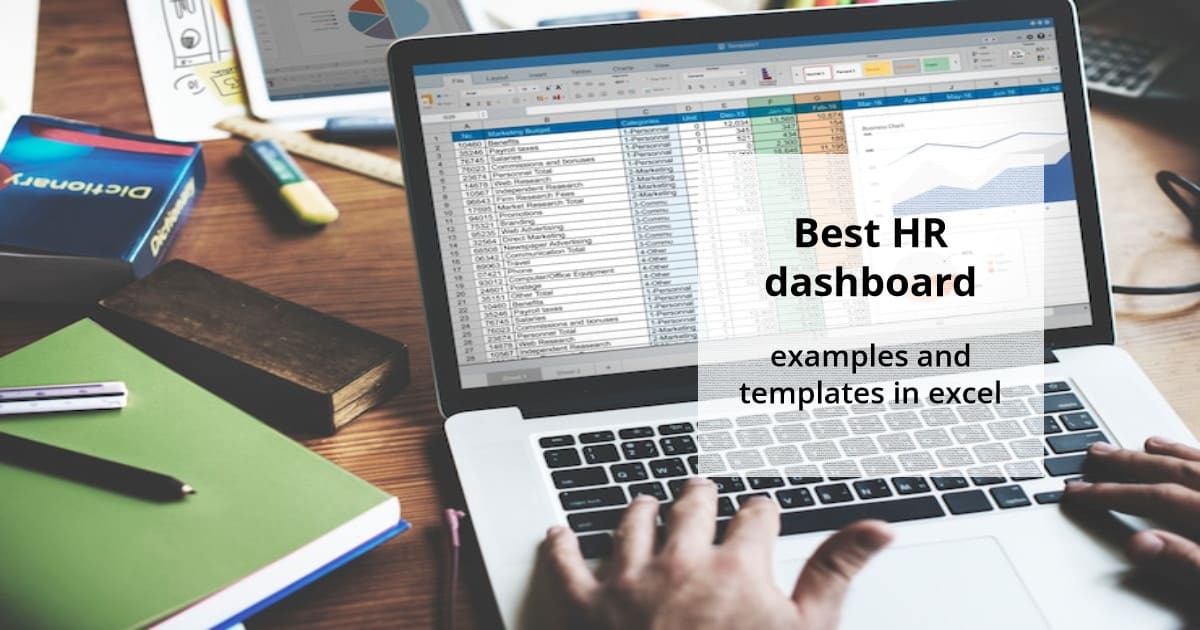 Why do you need Excel HR Dashboards
The human resources field is becoming more and more data-driven, and the need for a data analysis tool has become undeniable in recent years. Here is where the HR dashboard pops up! HR specialists face a huge amount of data regarding employees and their responsibilities, which is almost impossible to manage using paperwork or out-of-date traditional methods. HR teams have taken advantage of software for tracking all their responsibilities, including Interview meetings, recruitment processes, educating newcomers, performance measurement, and dozens of other duties that they are propelled to handle.
Among different choices for reaching this goal, a human resource (HR) dashboard template in Excel can be highly beneficial to simplify the complicated tasks of an HR manager or specialist in a company. If you are curious about the importance of HR dashboards and the way they can assist you with your tasks, follow this post to learn more about the HR dashboard in Excel. Let's get started!
What Is an HR Dashboard?
Now it is time to answer this critical question: "What is an HR dashboard?" Before answering the question, remember that the different responsibilities we mentioned for the human resource team can provide your business with a huge amount of information that should be investigated carefully. Dealing with this information and analyzing it in the right way to optimize employees' performance can speed up your business in the way through its objectives. Therefore, it is quite necessary to use a proper tool for data management, and an HR dashboard would be a perfect choice. But what exactly a Human Resource Dashboard is?
Excel dashboards are visual representations of data that provide a clear overview of all the metrics and data points you have in one place. They usually consist of items such as charts and graphs to reflect data in the most effective way. An HR Dashboard is a specialized Excel dashboard that represents HR department data in a single view. You are free to use this helpful tool to track, administer, and assess business data with the purpose of making more knowledgeable choices about workforce, revenue, budget, or even organizational culture. If you want to learn how to create charts and graphs in Excel to have professional dashboards, we have dedicated another article to this subject.
What Should an HR Dashboard Contain?
When you want to create an HR dashboard in Power BI, Excel, or any other software program, you must include different data types. Ideally, human resource dashboards contain all the information related to the workforce and their performance, including working time, progression rates, salaries, absence rates, and other details that can enable your business to reach its optimal performance level.
These HR dashboard items may vary case by case based on your company's features and priorities. However, regardless of what data you want to add to your HR dashboard, this data can be shown using specific shapes, charts, graphs, and tables such as pie charts, bar charts, line graphs, etc. This way of data representation lets you compare and analyze the data more easily and clearly.
Remember that the best HR dashboard is designed to let you compare and contrast data throughout the HR systems freely. Therefore, you will be able to not only see what has happened in the past and what the situation is at the moment, but you can also predict future happenings and make proper decisions for the next steps in your business journey.
Important HR metrics that should be included in your HR Dashboard
There is no fixed rule or rigid instruction for the metrics that should be included in your HR dashboard. This means that you are able to create your own dashboard and customize it according to your company's needs. For instance, if you want to track salaries, revenue streams, employee satisfaction, or employee turnover, you can simply put the preferred data into a single HR dashboard. In this way, your HR dashboard will help you use your existing HR data, make predictions for the future, and help you meet your business and workforce objectives simultaneously.
According to AIHR, there are some main metrics and factors that are extremely useful in providing an organizational overview using HR dashboards:
Diversity refers to the various differences within a team, including but not limited to race, gender, education, and other distinguishing factors.
Gender: is helpful to track data in diversity HR dashboards.
Age: An essential factor for strategic workplace planning, succession planning, and innovative programs.
Education level: Important only when it can be relevant to an employee's duties.
Function type: helps distinguish employees by their seniority, such as top management, middle management, production personnel, and support staff.
FTE (Full-Time Equivalent): is the total hours worked by an employee on a full-time basis, useful for creating working time HR dashboards.
Employee Turnover: reflects the number of employees who left the company in a specific period.
New hires: represents the number of employees who joined the organization in a specific period.
Absence rate: shows the percentage of time when an employee was absent for a particular duration.
Cost of labor: This metric calculates the total amount of money paid to an employee, including employee benefits and payroll taxes. Cost of labor includes direct or indirect costs; Direct costs are associated with the primary process in an organization, and indirect costs are related to other tasks such as guarding, cleansing, etc.
Training cost: measures how much money your company spends on training new and existing workforce.
Recruitment cost: is the total cost of recruiting a new employee, including items such as job advertisements, external agencies, etc.
Time to fill: measures how long it takes for your company to fill a position when an employee leaves the system. This is a good metric to evaluate the recruitment team's productivity.
These are by no means the only HR dashboard metrics, and we can still provide you with a longer list of different factors. If you are looking for more KPIS and metrics, take a look at these ones:
Time to productivity
Salary range penetration
Span of control
Healthcare usage by plan
Employee satisfaction rate
Offer acceptance rate
Promotion rate
Total compensation spend rate
Revenue per employee
Training Completion Rate
Retention rate
Compa-Ratio
Overtime hours
By defining all or some of these metrics to use in your HR dashboard, you can create a customized tool for your business. This tool can be a good resource for you and your teammates to look at, rely on, and make reasonable decisions for your company's future. Therefore, it will lead your company to progress and accomplish its missions perfectly.
Best Examples & Templates of an HR Dashboard in Excel
When you want to use an HR dashboard in Excel, there are two choices in front of you:
1. Create your own HR dashboard from A to Z
2. Using a human resource template in Excel
The second choice will simplify the dashboard creation process and help you save plenty of time in this process. Many sample HR dashboards are specialized for different purposes with particular metrics and KPIs. Here are 5 free HR dashboard templates you can use to track and report your human resource data.
Working time Excel dashboard template
Comprehensive HR dashboard template1
Comprehensive HR dashboard template2
Employee salary dashboard template
Employee timecard template (daily, weekly, monthly, and yearly)
(The template files are attached, and each item should have a download link.)
HR Dashboard takes your datasets to the next level
Using a data representation tool in a data-dominated world is a must! Instead of buying different applications and moving between multiple software programs, you can simply ask an HR dashboard to compile all the data into one streamlined screen for you. We highly recommend you experience the simplicity of the complex data analysis process by utilizing a human resource HR dashboard template in Excel!
FAQs about the HR Dashboard
What goes in an HR dashboard?
HR dashboard is a dynamic graphical overview of your company's most important HR metrics in one place. Using this practical tool, you would be able to track, administer, and analyze data and make decisions for the future. 
How do I create an HR dashboard?
It is quite easy to create an HR dashboard in Excel. You can simply use a pre-created human resource HR dashboard template in Excel. Otherwise, create a Table with your HR data in one tab and add slicers for your HR metrics in another. You can simply arrange the slicers to create your HR dashboard in Excel.
What is the value of an HR dashboard?
A human resources dashboard is important because it brings all the necessary HR data of your business into one view. This means that you don't need to use many different tools, software programs, or paperwork to analyze your data. Instead, you have all you need to decide in one unified Excel dashboard. 
What is a KPI for HR?
Many different KPIs can be used in the HR dashboard based on your company's needs, targets, and priorities. Employee turnover, absence rate, cost of labor, and employee satisfaction rate are some of these metrics that reveal useful data for HR specialists. 
All of the changes have been made. 
Our experts will be glad to help you, If this article didn't answer your questions.
We believe this content can enhance our services. Yet, it's awaiting comprehensive review. Your suggestions for improvement are invaluable. Kindly report any issue or suggestion using the "Report an issue" button below. We value your input.