How to Keep Track of Business Expenses?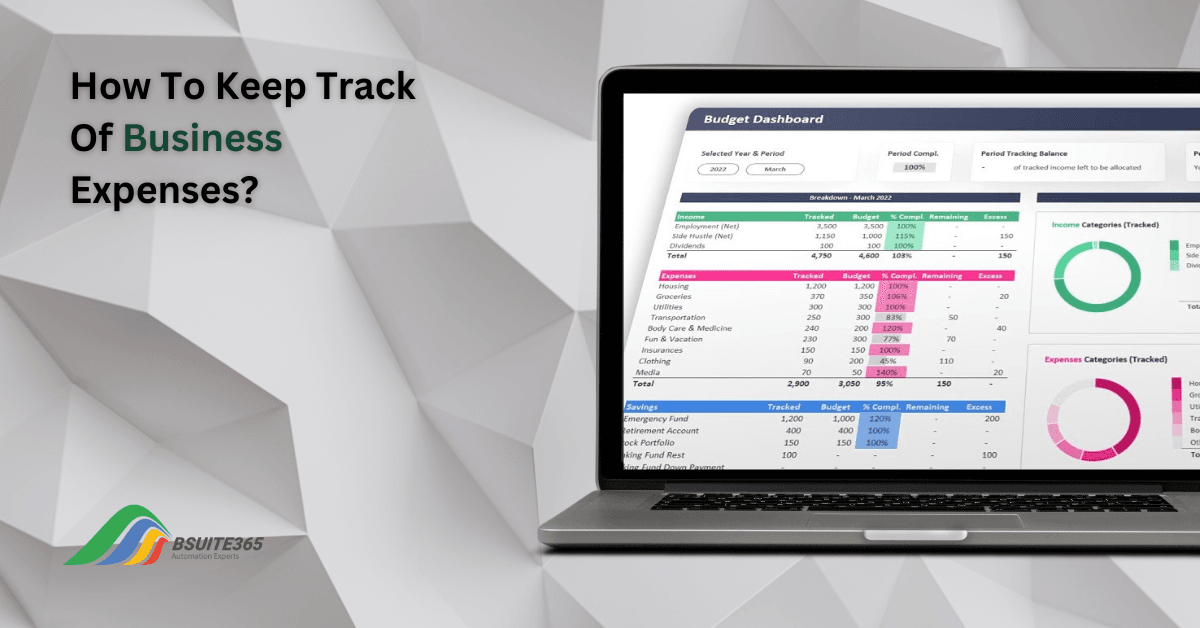 Knowing how to track business expenditures is vital if you are managing your enterprise. As a proprietor, if you maintain the equilibrium between your business outlays and earnings, you will witness how effectively you are boosting more sales to your trade.
But when it comes to tracking business expenses, you may avoid it because it takes so much energy and time. Even small businesses with many activities and motivations might resent the time they should spend just to learn how to track business expenses for free.
But no need to worry. If you just have a great business expense tracking software, you'll see how easy it is, like a piece of cake.
In this blog, We will cover how to track expenses for small businesses.
"Read More: Excel for Finance | Excel Financial Formulas Cheat Sheet"
What Are Business Expenses?
What we should understand about learning the best way to track business expenses is that they are any kind of expenditure related to your business. Whatever cost you may come across in the journey of your business is called business expenses.
There are two main categories for business expenses:
Sum of all the goods you have sold in your business
All the costs in your business area are day-to-day costs and come your way merely because you run a business. Those costs are taxes, rent, the salaries that must be paid to the staff members, etc.
However, you can categorize your expenses into even smaller parts so you can keep track of them in the best way possible.
What Are Some Common Business Expenses?
Salaries
Utilities
Postage and delivery
Bank fees
Advertising
Contract fees
What Is the Best Program to Track Business Expenses?
A good tracking expenses program should not only track your receipts but also monitor your credit, create a rational budget, track how the investments perform, etc.
Now, we will introduce the programs we have selected that offer fair prices and provide tools to assess the financial health of your business.
Mint is the best choice as it's free and allows you to monitor all your accounts in one place. Now, we will introduce the programs we have selected that offer fair prices and provide tools to assess the financial health of your business.
However, It is important to remember that some banks may not permit the usage of Mint. This can make your process of tracking business expenses a bit difficult.
This app is typically best for small businesses because it allows you to send invoices and track them carefully. One crucial thing about this app is its built-in picture tool that gives you the will to snap photos of your receipts. One little bad thing about this app is that it's more expensive than other apps in the market.
This app is worth a shot because it automatically scans and imports receipt details for you. The bad thing about this app is that sometimes it takes longer to do automatic receipt reading.
Zoho Expenses is the best app any business can ever ask for as it doesn't let you go over budget. The expense data Zoho collects can create more than 25 reports based on your spending, travels, credit cards, and other things to help you stay up to date with all expenses.
This app can be free if you are okay with the 5 GB limit on receipt storage. If you are not okay with the 5 GB limit, you should be paying $3-$12 per user per month which seems like a good deal since it's much more budget-friendly than other apps.
Can I Use Excel to Track Business Expenses?
If you consider yourself a master of Excel, you can use Excel to get your job done in the shortest time possible. Setting up a spreadsheet that works for your business can be the best way to track business expenses. If you think working with Excel is more effortless. Since most of us are not masters of Excel, using accounting software might seem the best option.
How Can I Track Business Expenses for Free?
There are many free business expense tracker options out there, and if you're struggling financially, you can find apps that don't need a monthly subscription. Using expense tracking software will make your job easier and help you run your business more smoothly than ever.
You should be able to upload your receipts of spending to the app, have access to the mobile version, and be allowed to have multiple users using the app all at the same time.
How Do I Track All Business Expenses?
You see your profits and losses when you keep track of business expenses. It helps you realize which tactics are helpful to manage the money that goes to your account.
You need to follow five steps to track business expenses quickly. Let's see how this can be done.
Step 1: Open a separate business account.
Here is the first step on how to track business expenses. You need to create a business financial account for your business transactions.
As you know, having a separate account will help you handle your finances efficiently. You can see how well all your business expenses are organized. Therefore, it's easy to claim tax deductions.
Step 2: Choose a suitable accounting system.
You are free to choose whichever accounting system you desire to track business expenses for your business. Of course, selecting an accounting application that works perfectly for your business is the best choice. However, you can use spreadsheet software too. Spreadsheet software will make it easy for you to record your income and expenses for your business in the best way possible!
Step 3: Choose cash or accrual accounting
When opening an accounting system, you must choose between cash accounting or accrual accounting.
Most small businesses and freelancers would rather choose cash accounting as it is effortless to work with. Using cash accounting will give you the option of simply recording transactions right when they occur.
On the other hand, accrual accounting is much more in-depth and is necessary for growing businesses with a large number of staff and large businesses in general.
What makes cash and accrual accounting different is that when you use accrual accounting to find the best way to track business expenses, you can record income when a product gets sold, not when you receive the payment for it. It's also the same with the expenses. Your expenses are recorded when you receive the bill, not when you pay the bill.
Step 4: Connect your financial institutions.
Connecting your financial institutions with your accounting software can simplify small business expense tracking. Some may find this uncomfortable and unsettling, but it's very safe and can protect your sensitive data.
This option is very beneficial because once you connect your bank, your accounting system can download all your banking transactions directly.
This will be the best way to track business expenses.
Step 5: Manage receipts properly.
Ensuring that you're tracking your business expenses properly is always important. One way to do such a thing is to use a mobile app with your accounting software application. Suppose your accounting software application doesn't offer you such an app. In that case, you can always use an expense management application that will get the data from your accounting software application right to the app you use on your phone.
How Do I Create an Income and Expense Spreadsheet?
Creating an expense and income Excel spreadsheet will help you in terms of managing your personal finances. A simple spreadsheet can provide a close look into your accounts and, most importantly, track business expenses. Here's how it's done.
Design column headers to organize the information regarding expenses and income sources, followed by the provision of multiple lines to enter the data. Establishing a tracking method and uniform terminology is essential to ensure ease of access and reference.
Columns should have a date, client, name of the project, and amount of money spent on a certain item.
Make sure to mention what client and project the expense is for so you can be sure about accurate business expense tracking. These expenses should be in chronological order, so the last one on the list is the most recent.
Choose your expense worksheet and set it up for recording expense data. Do the same process as for the income spreadsheet, but choose column headings suited to track your business expenses. This usually entails listing the date of the expense, the recipient of the payment (either a company or individual), the amount paid, and the purpose of the expense.
When Should You Seek Other Methods?
While we know that using accounting software is the best option for tracking your business expenses, you can also use spreadsheet software occasionally.
Your Business Seems More Like a Hobby.
If your business is small and not fully established, manually tracking your expenses should be sufficient and secure. However, if your business is expanding, it is recommended to use accounting software since it will monitor your expenses carefully and accurately.
Final Word
The best way to track business expenses can vary from one person to the other according to each person's use.
Keeping track of business expenses should be done with extra care, as you can get the correct expense deductions and make your income much more than expected.
If you want your business to grow, you need to pay attention to how much you spend and how it affects your profitability. Needing help from expense tracker apps will make expense management much easier and less time-consuming.
FAQ
What business expenses do I need to keep track of?
Anything related to your business like advertising and marketing costs, utilities, office-related supplies, delivery, etc. are considered to be business expenses.
How can I keep track of expenses for free?
Mint has been proven to be the best choice among your options because it's free and you can also manage all your accounts in one place.
Is there a free app to track expenses?
Of course, there is. If you're looking for a free app to track business expenses, Mint should be your go-to option as it's free and offers you both Android and iOS versions. 
Which app is best for business expenses?
If we were to say which app is best for business expenses, we would have to say that Zoho Expense stands out among all your other options. What supports this claim is that it's a very powerful app for small business owners and self-employed people. 
Are business expense tracker apps secure?
In general, yes. Business expense tracker apps are considered to be very secure. That is, of course, when you use the safety tips generally given to people when installing new apps. 
Our experts will be glad to help you, If this article didn't answer your questions.
We believe this content can enhance our services. Yet, it's awaiting comprehensive review. Your suggestions for improvement are invaluable. Kindly report any issue or suggestion using the "Report an issue" button below. We value your input.