How To Add Check Marks In Excel
A check mark has different uses in Excel. It can be just a symbol that is inserted into a cell but doesn't cause any action (acts as a sign), or it can be used as a box that allows you to select or deselect an option. In this post, we are going to teach you how to add check marks in Excel using different methods.
First, we'll start with the simplest method, adding a symbol check mark.
Why Do We Need To Add Check Mark Symbols In Excel?
Symbols are just some marks that express something without the need to use words. For example, a check mark symbol can mean Yes, and a cross symbol might mean No. Therefore, to show these meanings by symbols, you can simply add a check mark symbol in Excel. It is useful for reports and forms in which you don't need to select an option or perform other actions.
How To Put A Check Mark In Excel (Tick Symbol)
This is the easiest method of adding a check mark in Excel. Follow the instruction below:
Select the cell where you want to put the check mark or the tick symbol.
Go to the Insert tab and click on the Symbol icon, located under the Symbols group. A dialogue box opens in which there are different symbols.

Figure 1- Steps of adding a tick symbol in Excel.

Select Wingding font from the drop-down menu next to the Font label. You can also choose a tick mark from the Symbols collection of font, but the former has more options. You can find both a tick sign and a check mark in the box.
Double click on the desired mark or click the Insert button. It will appear in the selected cell.
What Is The Check Mark Keyboard Shortcut?
There is a shortcut dedicated to each symbol on Excel. Shortcuts allow you to skip the mentioned four steps, and add a check mark in Excel just by pressing on keyboard shortcuts.
Select the cell where you want to put the check mark.
Choose Webdings or Wingdings2 font from the drop-down menu.

Figure 2- Select the fonts which have different check mark options

Now for each tick or cross symbol, press the following shortcuts.

Figure 3- check mark shortcut list.
Change The Format Of Check Marks In Excel
Like any other fonts on Excel, you can apply some changes to the format of a check mark or a cross sign. Just select the symbol and change the options you would like from the Font group. It can be the color, size, or style (italic, bold, underline).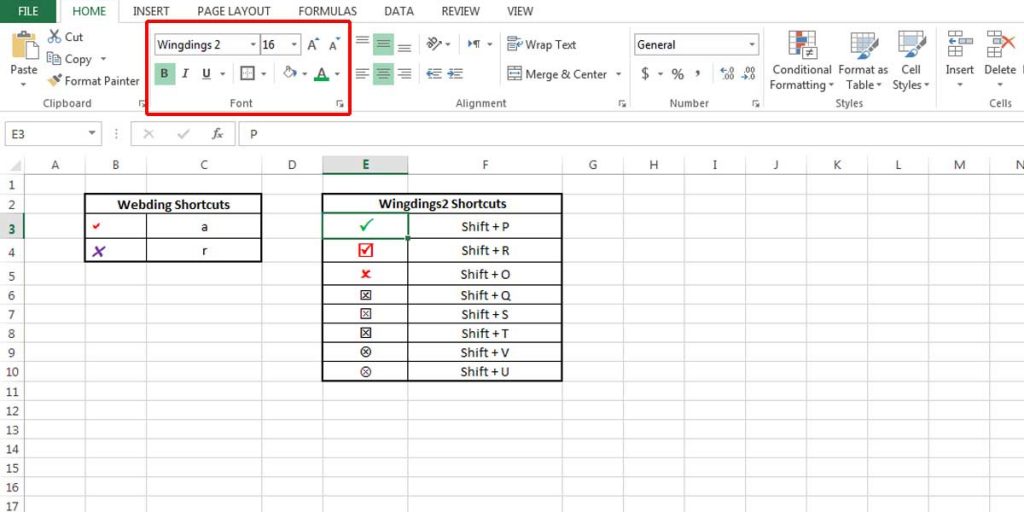 How To Insert A Checkbox In Excel
A checkbox is an interactive tool in Excel that you can select or deselect. This is another method of adding a check mark in Excel. It is useful in forms that a user needs to fill or to make a checklist, dynamic chart, and dashboards. To insert a checkbox in Excel, you should first add the Developer tab in Excel Ribbon.
Right-click on the Excel ribbon and choose the Customize the Ribbon from the list.

Figure 5- Customizing the Excel ribbon to add the Developer tab

It opens a window. In the list on this window, find the Developer option and check it. Click on OK.

Figure 6- Put a tick in the Developer checkbox so it appears in the Excel ribbon.
To add a checkbox to the sheet, click on the Insert button in the Controls group in the Developer tab.

Figure 7- You can insert a checkbox from the Developer Tab

Select the checkbox and click where you want to insert it.
To change the text of the checkbox, right-click on it and choose Edit Text and then write your preferred text.

Figure 8- Editing checkbox text in Excel
You can add as many checkboxes as you want to make a checklist and click on each box to put a check mark on it.
You can also change the appearance of each checkbox. Just right-click on the checkbox and select Format Controls. A dialogue box appears from which you can change the color and different options for the checkbox.
So far, this guide has presented a simple checkbox which you can use to make simple forms and checklists. But there are other options for checkboxes, which make them more interactive.
Checkbox For TRUE Or FALSE Actions
If you want to make a more interactive checkbox, first, you should link the checked and unchecked checkboxes to TRUE or FALSE actions. These actions make it easier for you to write different formulas for your check mark actions.
Right-click on the added check mark and select Format Controls. Go to the Control tab.
The Checked and Unchecked options have been linked to TRUE and FALSE results. You can show these words in the Excel sheet, so later you can use them to write formulas and make your form more interactive. Therefore, click on Cell Link and choose the cell where you want to show the result of the check mark. Click OK.
Now, each time you put a check mark in the box, you can see the word TRUE on the selected cell, and when you uncheck the box, it will turn into FALSE. If you have a list, you should link these actions one by one.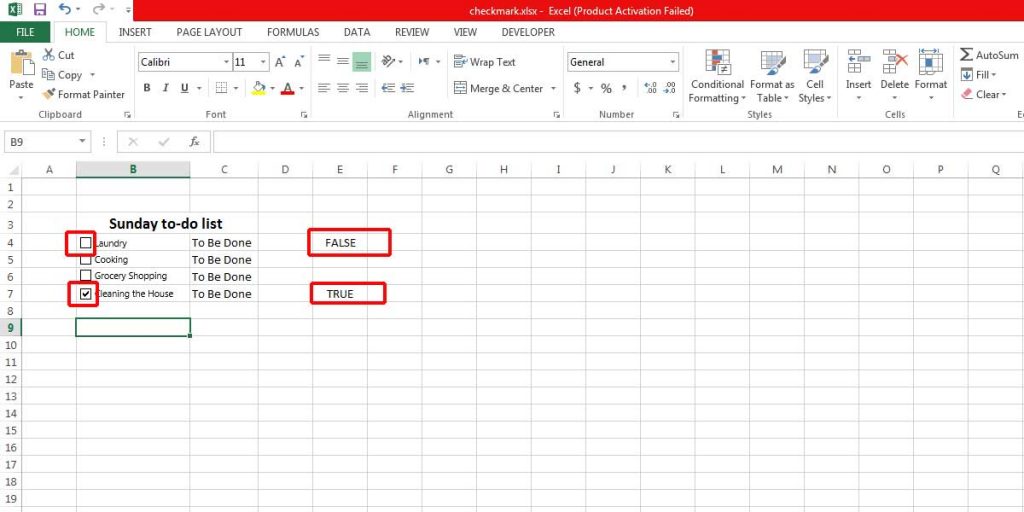 The TRUE and FALSE actions can help you write different IF conditions and change everything in your form. For example, if the task is TRUE, you can change the color of the cell, or if it is False, you can change the text written in a cell. That all depends on your preferences, and you also need to be more familiar with different methods of writing formulas and IF conditions in Excel.
Bottom Line
Working with Excel will be easier for you after you learn how to add a check mark in Excel. Since check marks are so useful, whether you want to add a simple check mark symbol to make a report on Excel, or you want to go further and dedicate some actions to the check mark in the checkboxes.
If you're interested in Excel Tips & Tricks, visit our other blogs such as How To Make A Drop-Down List In Excel.
Our experts will be glad to help you, If this article didn't answer your questions.
We believe this content can enhance our services. Yet, it's awaiting comprehensive review. Your suggestions for improvement are invaluable. Kindly report any issue or suggestion using the "Report an issue" button below. We value your input.